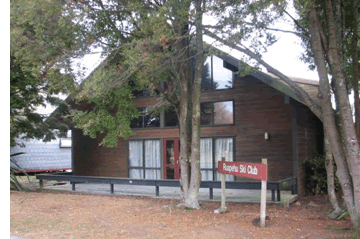 The second of our lower level buildings, RSC Turoa was built in the town of Ohakune in 1983 to allow members to ski (and later snowboard) at the Turoa skifield which was opened in 1978.
The two storey building sleeps 30 in bunkrooms of six on the ground floor, plus eight more in four small double bedrooms located upstairs.
As with all our buildings, Turoa has a live-in cook, normally in residence from the start of July school holidays through until the end of the September holidays.
As well as accomodation on the ground floor there are also the kitchen, dining and lounge areas, TV room and a drying room. Upstairs there is a games area with both pool table and ping-pong.
The building is situated in Turoa Alpine Park on the southern edge of Ohakune near the big carrot and as with the Chalet it is drive to the door.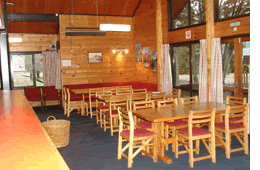 RSC Turoa began life slowly as most members were used to Whakapapa, but these days the popularity of 'Turoa' - as the building is called within the club - continues to grow, and there can be a waiting list on occasion.
Many members prefer to ski or snowboard at Turoa which is a 20km drive from town and has no on-field accommodation of any sort. Turoa is also an ideal place to stay if you are wanting to sample the night-life in Ohakune at the end of the day.
This building differs from the others in that it is subject to local council by-laws, whereas the Whakapapa buildings are on leased land within a national park.
Like the Chalet Turoa is popular in summer as well as winter.
Here's a Google map showing the Turoa building: