RSC Snow Squads aim to improve the all-around skiing and boarding ability of RSC youth members and to feed keen racers and freestylers into the RAL development programmes. We also hope to foster a life-long commitment to the club from snow squad families.
Snow Squad sees participating children organised into groups of approximately 8, each group spends 5 weekends at the mountain with a dedicated RAL instructor.
RSC has a very good relationship with RAL, who give us top level instructors at very good rates to lead our snow squad groups.
Our RAL instructors are hand picked for their skill in teaching snow sports, managing young people and their ability to get on with RSC club members. During the season, they will work hard to improve the ability of snow squad members by challenging their skiing/boarding, employing specific exercises, using video analysis, and introducing gate training. Often the best way to teach children is the "follow me" approach where they are copying their instructor skiing hard and fast over a huge variety of terrain.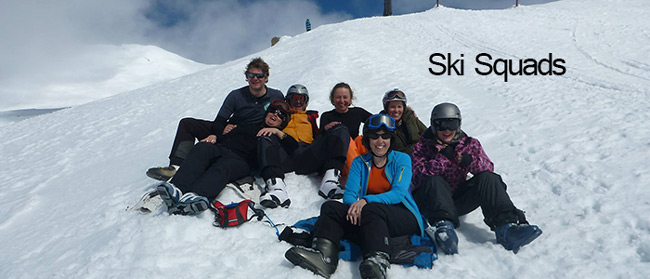 Snow Squad has a lower age limit of 8, but if your child is not physically robust, you may like to consider waiting a year or two longer before you register them for snow squad.
Snow Squad is a success because of the enthusiasm and commitment of not only the participating children, but also the parents of squad members. To improve communication and run each group as smoothly as possible, we appoint a group coordinator from the parents for each Snow group.
For more details on Snow Squad please contact the Club Captain or the RSC office.
Snow Squad Signup Form
Information and Registration form for the Snow Squad. Includes information on the two date options.
Snow Squad Trophies
Presented by Marion Quinn (1995) (Trophy originally donated by T.W. Mitchell 1937 as Ngauruhoe Cup)
Awarded to most improved RSC Snow Squad member who is aged under 13 years old on 1

st

July.

Mike Quinn was an RSC Committee member and his

wife Marion was a prominent member.

Tom Mitchell was an Australian skier who

won the NZ championship several times.

Currently held by Emily Moffat
The Ngauruhoe Cup is the oldest of the original Ruapehu trophy races,first held in 1937 by the Ruapehu Ski Club.
The Ngauruhoe cup consisted of a 'straight' race (downhill) and slalom open to all amateur skiers who had not been placed 1st or 2nd in the national championship.
The Ngauruhoe Dup has now been held for over 60 years and recently has been run by the Ngauruhoe Ski Club - however the original cup is still held by RSC and remained as above..

JASON WINTER MEMORIAL TROPHY and Miniature
Presented by Barry Winter (1996). (Trophy originally donated by Sir Willoughby and Lady Norrie 1954)
Awarded to most improved RSC Snow Squad member who is aged under 16 years old on 1

st

July.

Sir Willoughby was Governor-General in the 1950s

and his children skied with RSC.

Barry Winter was Vice-President in 1989-92

and a prominent Club organiser.

His son Jason was a prominent member who was

tragically killed in Tasmania in 1996.

Currently held by Emily Davidson